Radiation therapy is a method of treatment by the use of ionizing radiation. Radiation is one of the main methods in oncological practice and applies to many kinds of tumors and stages both as a self-sufficient method and in combination with other ones (targeted therapy, surgery, chemotherapy, immunotherapy, and hormone treatment). Irradiation effect consists in the facts that the self-regulation processes in malignant cells are disrupted, their blood supply is discontinued, which with the passage of time leads to tumor`s death. Modern technologies of radiation therapy allow to recommend this method in treatment of 80 % of oncology patients by leading world`s organizations and societies on oncology diseases (WHO, NCCN, ESTRO, RTOG). The judgment for performance of external beam radiotherapy is also a presence of some kinds of nonneolpastic diseases, which treatment of which by other methods turned out to be inefficient.
Medical Institute named after Berezin Sergey (MIBS) is
Treatment by the use of a high-energy linear accelerator Clinac 2100 CD with functions 3D-CRT, IMRT,IGRT manufactured by the company «Varian Medical Systems»
Treatment by the use of a stereotactic and radio surgical linear accelerator TrueBeam STx with functions RapidArc, SBRT manufactured by the company «Varian Medical Systems» (USA). It is an unmatched accuracy in targeting, combined with the finest patient`s positioning, which help to solve difficult and challenging tasks a radiation oncologist faces.
Radiodiagnosis on high-field magnetic resonance and multi-spiral computer tomography scanners manufactured by Siemens (Germany), PET / CT.
Modern laboratory facilities.
Qualified specialists.
Psychologist's support.
Unique benefits
The most modern units for performing beam treatment in MIBS clinic solve the major task of radiation oncology – to select the optimal balance between the maximum sufficient radiation effect and the minimization of complication risks both early and late, improving the quality of patients, sustained radiotherapy. These unique benefits of the linear accelerators which are used in the center are facilitated with the help of the following methods:
3D-CRT is a formation of three dimensional radiation area, tending to repeat the tumor form in order to reduce a radiation dose on healthy tissues thanks to equipping linear accelerators with multileaf collimators;
IMRT is a beam intensity distribution purposely to reduce a radiation dose for bordering with a tumor tissues and increase for tumor lesion;
IGRT is a beam therapy under visual monitoring, which allows to treat floating tumors (for instance, in lungs, intestine, urocyst, etc.) during the natural variations of their location and also at the patient`s weight change in the process of treatment, ensures the accuracy of directional dose distribution within 1-2 mm;
RapidArc is a technology, combining IMRT and IGRT, it allows to reduce radiation of closely adjacent radio sensitive healthy organs, it is especially important at simultaneous chemoradiation therapy, decreases total time of procedure to 1-2 minutes due to the change of angular rate of rotation of the linear accelerator, radiation is performed at any angles in the range of 360 degrees;
SBRT is a stereotactic beam therapy for especially accurate radiation of a target of a complicated form, which is located near to radiosensitive structures, ensures shortening of treatment period thanks to the possibility of a high dose delivery with a high accuracy without damaging of healthy tissues. It provides new possibilities for patients with diseases of lungs, pancreas, liver, kidneys, lower pelvis.
Nowadays the most modern method of distanced beam therapy is an intensity modulated beam therapy (IMRT). At this kind of radiation the maximum exact adequacy of radiation dose distribution to irradiated volume, high dose homogeneity within the target, the possibility to delivering of higher total boost doses on neoplasma area in comparison with the traditional radiation therapy. The main advantage of this method is the opportunity to create such radiation conditions, upon which it is possible to manage the supreme sparing of normal tissues surrounding the tumor.
The implementation of this method is impossible without the equipment of linear accelerators without a system for IGRT (Image Guided Radiation Therapy) – beam therapy under the control of visualization tools. In this case with the help of digital X-ray images or computer tomography with a conical beam there is performed the control of patient`s body position and irradiated area before every session of radiation treatment, which allows to guarantee the high accuracy of boost dose delivering during the whole treatment period. All accelerators in our center are equipped with this system.
As below there are images data, demonstrating a more accurate dose distribution in irradiated volume and load decrease on healthy tissues (IMRT is on the right).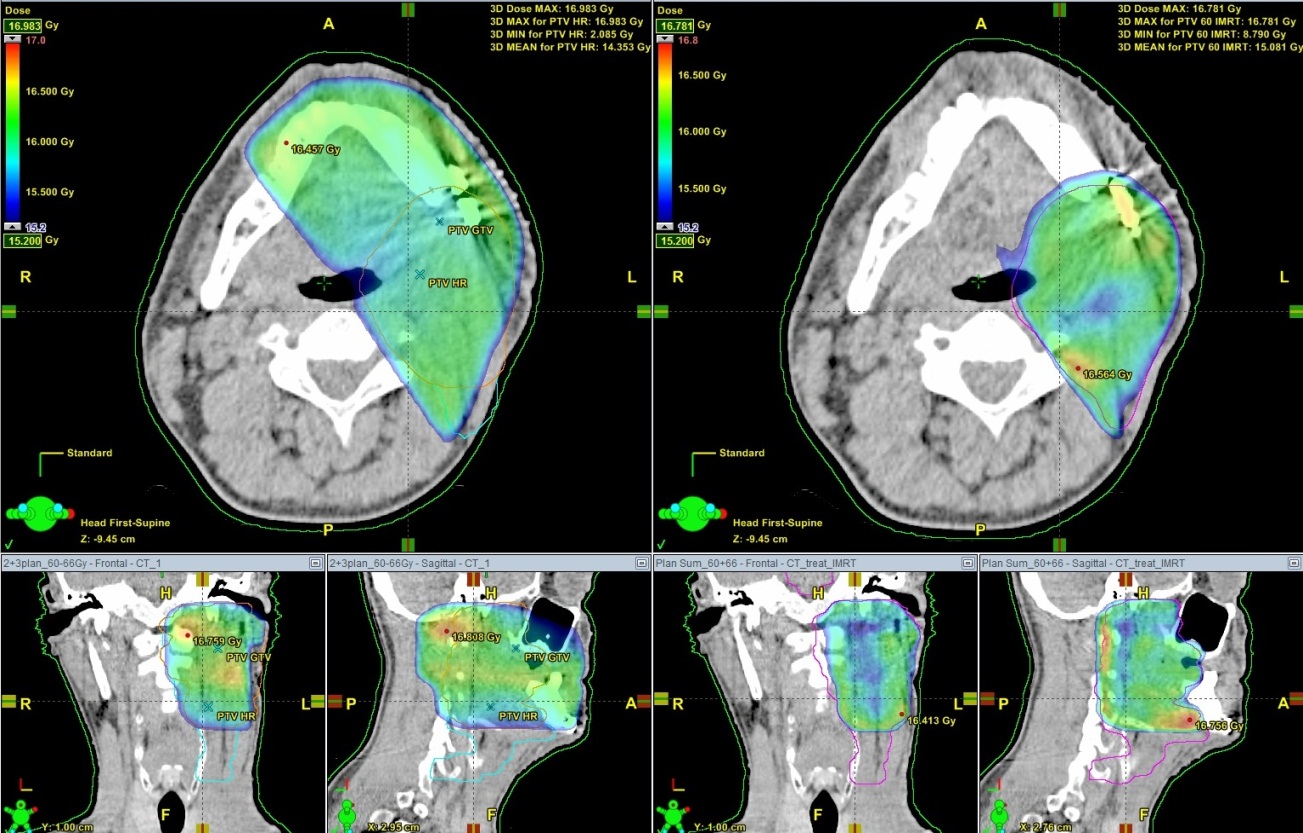 Image 1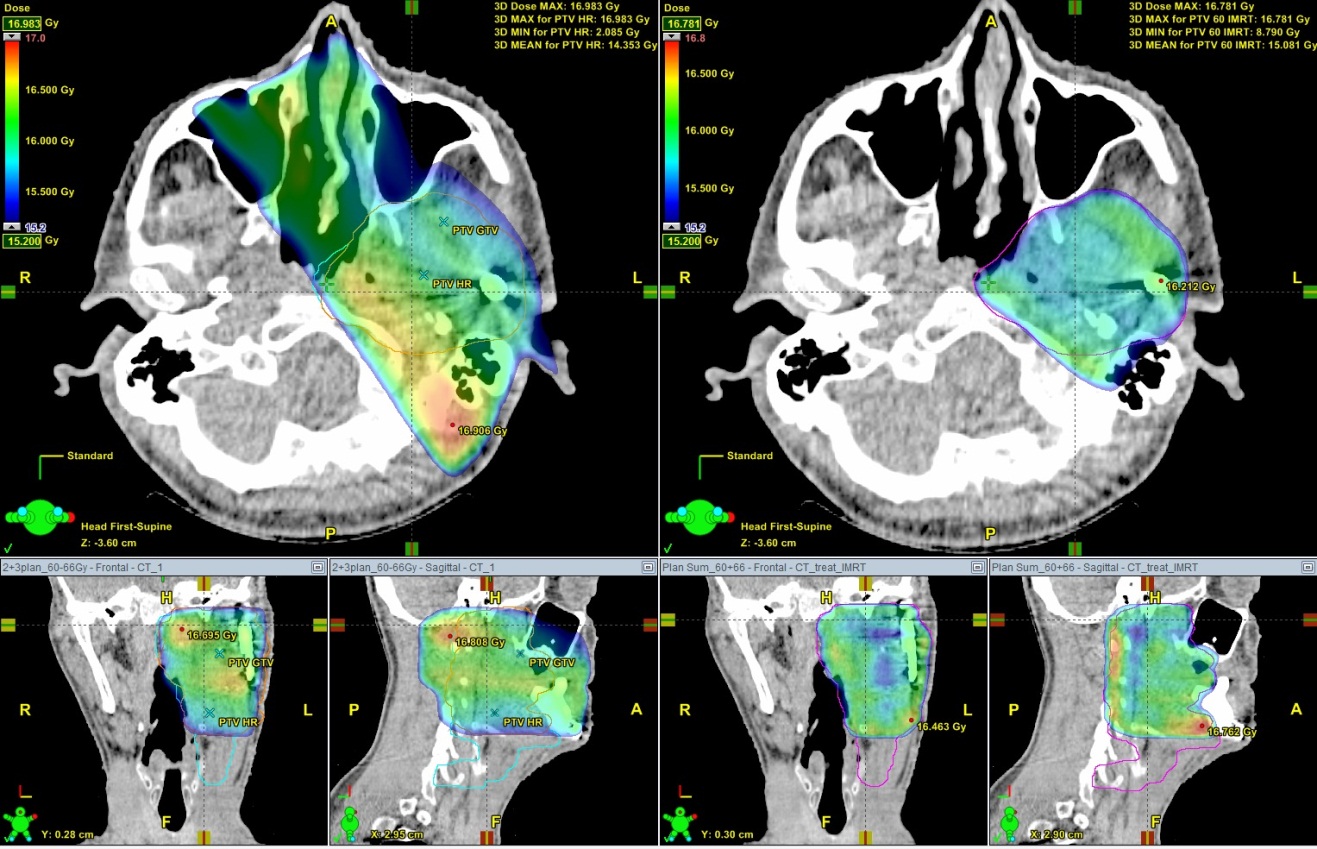 Image 2
The application of an intensity modulated beam therapy (IMRT) is possible only upon the availability of modern linear accelerators, planning systems of beam therapy, means for preparation implementation for beam therapy (specialized computer tomograph, latching devices and facilities, magnetic resonance scanner) and qualified medical personnel. All the above mentioned allows to make patient-centered approach, aimed at safety and maximal result in a minimum of time. At the present time our center is the single medical institution in Saint-Petersburg and the Leningrad region, which possesses all the necessary arsenal for this radiation method implementation.
How is the treatment process organized at the linear accelerator?
The preparation and planning of a treatment procedure (2-3 days): selection, production of individual latching devices and fittings (such as a head rest, a vacuum mattress, a thermoplastic mask) for irradiated volume; the performance of computer tomography, magnetic resonance scanner (if necessary) for implementation of 3-D/4-D dosimetric radiation planning; the performance of treatment simulation at the linear accelerator. The duration of beam therapy treatment is defined by its aim. The task realization of tumor total removal (definitive course) usually requires from 15 to 30 every day radiation sessions. Palliative or symptomatic beam therapy aimed at the quality improvement of patient`s life, reducing or relieving from painful symptoms (such as pain intractable by pain killers, compression of vital organs, tumoral ulcers, erosions) or significantly decrease the volume of tumor mass) is performed during 3-15 treatment days. By the way, from about 30 % of all patients receiving beam treatment only a disastrous small part is treated by the latest methods of specialty care. During beam therapy a patient is comfortably positioned on the treatment table, monitoring at him/her and contact is performed by the use of video cameras and a microphone. The treatment is totally painless, the session lasts for several minutes.
---
---